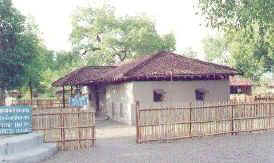 Sewagram Ashram:- While starting Dandi March, Gandhiji had vowed not to return to Sabarmati Ashram till the attainment if Swaraj. In1935, he came to Wardha. He decided to live in a village as village reconstruction was his mission. He selected Segaon, a small Village near Wardha. It had no amenities, not even an approach road. Gandhiji came to Segaon on the 16th of June 1936. The name of the village was Later change to Sewagram because there was another town with that name in the Vidarbha region. Sewagram means "village of service".
A number of huts were built for him and his colleagues. The huts were made of locally available cheap materials. Beauty and convenience were given due attention. Experts considered them architecturally superb. The main huts are Adi-Nivas, Bapu-kuti and Akhri Nivas. They have earthen floor and little furniture. Gandhiji wanted them to be a model for the villages. He took keen interest in organising ashram life and gave minute instructions.
Eleven Vows were the Guiding principles of Ashram life. But there were no rigid rules. The Ashram soon became a community of idealists the imamates did all the work including sanitation they strived to be self-sufficient.
The Ashram became the headquarter of several constructive work organisations. It was all most an unofficial capital of the country at that time.
In 1955, the Ashram inmates left for Bhoodan Work. Now a trust manages the Ashram. Various activities like agriculture, Education and training are carried out there. Regular prayers are held. Every year, thousands of people from all over the World visit the Ashram and get inspiration.