World Piece Pagoda, Wardha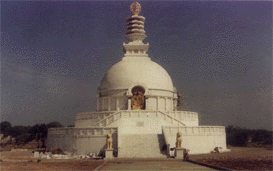 On October 4th , 1933, a Buddhist Monk form Japan came to Wardha to meet Mahatma Gandhi by the Introduction of Shri. Jamunalal Bajaj. He use to pray "Na Mu Myo Ho Ren Ge Kyo" through out the day be beating drum near Bapuji's (Gandhiji's) Ashram. Bapuji ask this Japanese Monk, "What are you praying for ?". Japanese Monk's reply was, "For the Independence of India and world piece". Since then Bapuji Accepted "Na Mu Myo Ho Ren Ge Kyo" as Ashram's Prayer. After that, even when Guruji's disciples had to leave Ashrsam due to the war situation between India and Japan and even after India Became Independent, Bapuji's Prayer of "Na Mu Myo Ho Ren Ge Kyo" continued through out his life. More over when at this time although there were many people in the world who were interested in and respected Bapuji's movement, Guruji was the only person who firmly believed that India would attain Independence by Non-violence advocated by Bapuji.
The History of Wardha Which brought together Bapuji and Fujii Guruji of Japan ia appealing an important message. "Na Mu Myo Ho Ren Ge Kyo" was transmitted to Mahatma Gandhi by Fujii Guruji as 'a prayer' for the survival of humanity in the Atomic age. That means each and every person has to pray, not for ridding himself from his own suffering, but for the attainment of Buddhahood of the whole World, whole atmosphere in order to save the whole humanity from suffering. I believe that this concept exists in almost all religion, but only the practice or reciting the prayer "Na Mu Myo Ho Ren Ge Kyo" has this concepts as the highest prime object. Bapuji adopted in his Ashram the words of Japanese Buddhist prayer not as a prayer of a particular religious sect, but to believer this concept to the coming Generations. The STUPA is constructed as the symbol of the concept of that 'Prayer'.