Contact Nos. for Various Colleges in Wardha
| | | |
| --- | --- | --- |
| Sr. No. | Name of College | Contact No. |
| 1. | Bapurao Deshmukh College of Engg. ( Click Here ) | 84031 |
| 2. | Mahatma Gandhi Institute of Medical Sciences. ( Click Here ) | 84341-55 |
| 3. | Sharad Pawar Dental College. ( Click Here ) | 40129 |
| 4. | Institute of Pharmacy. Borgaon (Meghe). ( Click Here ) | 41684, 40284 |
| 5. | Jawaharlal Nehru Medical College. | 40808, 43542. |
| 6. | Yashwant Law College. | 43120 |
| 7. | Janki Devi Bajaj College of Science. | 43489 |
| 8. | G.S College of Commerce. | 42734 |
| 9. | G.S College of Diploma & Management. | 46373 |
| 10. | Sriman Narayan Tantraniketan (Polytechnic) Pipri. | 43297 |
| 11. | Agnihotri College of Physical Education. | 42575 |
| 12. | Kumbhalkar College of Social Work, Sewagram | 41848 |
| 13. | Swawalambi B.Ed. College. | 43972 |
| 14. | Rural Institute of Agriculture. | 40881 |
| 15. | Lok Mahavidyalaya. | 43580 |
| 16. | Shri Krishan Das Jaju Rural Institute, Pipri (Meghe) | 42779 |
| 17. | Shri Krishana College of Physical Ed. Sewagram road. | 43085 |
| 18. | Dr. B.R.Ambedkar College of Social Work, Borgaon | -- |
SMT. RADHIKABAI MEGHE
MEMORIAL MEDICAL TRUST'S
HEALTH SCIENCES INSTITUTION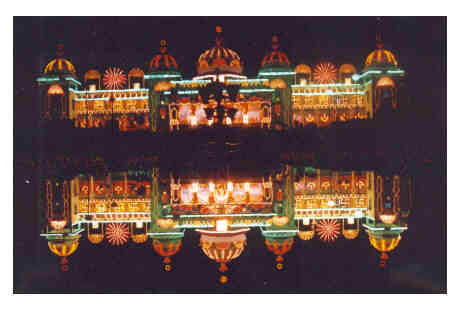 JAWAHARLAL NEHRU MEDICAL COLLEGE
SHARAD PAWAR DENTAL COLLEGE
RAVI NAIR PHYSIOTHERAPY COLLEGE
TRAINING COLLEGE OF NURSING
DATTATRAYA NETRALAYA
RADHIKABAI MEGHE MEMORIAL RURAL HOSPITAL
POST GRADUATE DEGREE COURSES
HOSPITAL SERVICES
The following hospital services available in Smt.Radhikabai Meghe Memorial rural hospital.Which is the teaching hospital attached to our medical and dental colleges.
500 bedded multi-speciality teaching hospital.
Well developed under graduate teaching and training facilities.
Intensive Care Unit and Intensive Cardiac Care Unit.
Established Renal unit with Dialysis and Transplantation Facilities.
Advanced Radiological Techniques.
Ultra modem Operation Theater services.
Nursing home facilities.
Cancer and Chronic disease special care Unit.
A super speciality Eye-Hospital-Dattatraya Netralaya.
An ideal Cardiac Center in the making.
A Phychiatry and De-addication Center.
DENTAL FACILITIES
Independent full fledged Department of Clinical and Para clinical specialities with well developed Labs for under graduate training.
Cranio facial Surgery only of its kind in this area.
Reconstructive Cosmetic and face lift operative procedures.
Separate hi-tech Implantation Center.
Opportunity to work with World renowned faculty and Research facilities.
Truma Care Unit.
OUR SPECIALITIES
Senior experienced and renowned faculty.
Excellent Results.
Profound clinical material.
State of the Art Research Facility.
Regular International and National Workshops and C.M.Es.
Special hostel for NRIs/Foreign National of International standard.
Best of Library facilities with Internet.
Cost effective education because of reasonable tuition & living expenses.
Simplified admission procedure.
Courses oriented to all round personality development.
Excellent hands-on experiences.
RECREATIONAL FACILITIES
Sports-Both indoor & outdoor
Cultural Programs
Debates & Quizzes
Sightseeing
Yoga/Meditation classes

POST-GRADUATE PROGRAMS DIPLOMA COURSES ARE CONDUCTED IN THE FOLLOWING BRANCHES:
| | | |
| --- | --- | --- |
| Medicine | Surgery | Obst.&Gyn |
| Pediatrics | E.N.T | Opthalmology |
| Radiology | Orthopaedics | Dermatology |
| Pathology | Psychiatry | Family planing & Public health |
Mahatma Gandhi Institute of Medical Sciences
Sewagram (Wardha).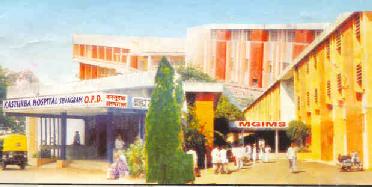 Introduction:-Kasturba Hospital has the Unit Distinction of being the only Hospital started by the Father of the Nation, Mahatma Gandhiji in 1944. Dr. Sushila Nayar was entrusted with the task of training young village help workers in this hospital, which was housed in the guest house constructed by Late shri G D Birla for the Guests of Gandhiji. The Hospital had 15 beds for women and children, along with a labour room for deliveries. A course for Auxilary Nurse Midwives was worked out and started in there own health care among the rural masses was explored, which has undergone various experiments in the last 30 years. It is a unique innovation of Kasturba Health Society and called health insurance scheme.
With continuous dedication this institute is marching ahead in the task of achieving adequate rural health care by 2010 A.D. in this area.
Admission to M.B.B.S course:-
Admission to M.B.B.S course of this institute is made according to the rules and regulations of the Kasturba Health Society (The parent body of the institute), as may be applicable and this institute, these are subject to alteration, amendments and modifications as may be considered necessary from time to time by Government of India, Supreme Court, MCI, Maharashtra government and the Authority concerned.
Distribution of seats for admission to M.B.B.S course
Reservation
Maharashtra
Non-Maharashtra

General (Open Merits)

9

10

Reserved

Maharashtra
Non-Maharashtra

A.

Scheduled Caste (SC)

4
4
B.

Scheduled Tribes (ST)

2
2
C.

Vimukta Jati (VJ)

1
1
D.

NomadicTribes (NT-1)

1
1
E.

NomadicTribes (NT-2)

1
1
F.

NomadicTribes (NT-3)

1
0
G.

Other Backward Class (OBC)

5
5
H.

Rural

4
4
I.

Kasturba health Society

2
0

Seats Filled through Nominations

Maharashtra
Non-Maharashtra
A.

Govt. of India Nomination

-
4
B.

Govt. of Maharashtra Nomination

2
-

Total Seats

32
32
Vidarbha Youth Welfare Society's
INSTITUTE OF PHARMACY
| | |
| --- | --- |
| * Late PROF. RAM MEGHE | PRESIDENT |
| SHRI S. R. DESHMUKH | VICE-PRESIDENT |
| PROF. D. K. DESHMUKH | SECRETARY |
| PROF. B. D. HIWASE | MEMBER |
| SHRI S. V. GODSE | MEMBER |
| SHRI A. P. DHANDE | MEMBER |
The Vidarbha Youth Welfare Society, Amravati was established in 1965 with specific aims and objects under the able leadership and guidance of Honourable Prof. Late Ram Meghe. Since the number of institutions have come up under the auspices in the urban and rural areas of Amravati and Wardha District.
Drug and Pharmaceuticals Technology has made rapid progress in Maharashtra. Pharmacy graduates has a bright opportunities in academic field as well as in manufacturing, analysis and research in pharmaceuticals industries. The graduates are also required as Drug Inspectors, Government Analysts, Hospital Pharmacists, Sales Promotion Officer etc. The Graduates can also open their own medical stores and set up manufacturing units for production of Drugs and Pharmaceuticals.
Honourable Prof. Late Ram Meghe, President V.Y.W. society and other office bearers have realised the importance of Pharmacy education and started this institute in 1991. The institute conducts Four Year Degree Course in Pharmacy (B.Pharm.) affiliated to Nagpur University, Nagpur. The institute has its own building. The society has provided all other required facilities including highly qualified teaching staff, well equiped laboratories, fully fledged library etc.
College Location:-
Institute is situated on its own Land with its infrastructure at Borgaon (Meghe) Dist.Wardha. Borgaon (Meghe) is Located at a Distance of 75 Km from Nagpur and 2 Km from Wardha Main Railway Station/Bus station and 3 Km from SewaGram Railway Station.
Institutional Facilities:-
1. The college provides a requisite number of teachers,who are well qualified to carry out effectievely the planned teaching programmes.
2. The college has a library,well equipped with books on all subjects for use of students.There are also books, journals,magazines and general material for reading.
3. The required number of spacious class rooms,Well equipped and well set spacious laboratories offer the ease and convenience to the students.
4. To engage the students extra-academically,sufficient recreation facilities are being offered for in-door and out-door activities.
5. The students securing merit positions in annual examination are given prizes by the institute.
Reservation of Seats:-
| | |
| --- | --- |
| Scheduled Castes & SC Converts to Buddhism. | 13.0% |
| Scheduled Tribes. | 7.0% |
| Vimukta Jati. | 3.0% |
| Nomadic Tribes (NT1). | 2.5% |
| Nomadic Tribes (NT2). | 3.5% |
| Nomadic Tribes (NT3). | 2.0% |
| Other Backward Classes (OBC). | 19.0% |
| Special Backward Classes (SBC). | 2.0% |
---