Mohandas Karamachand Gandhi
The future generation would not believe that a man like him had ever walked on the Earth
-Albert Einstien
A purer, a nobler, a braver and a more exalted spirit has ever moved on the earth.
-Gopal Krishna Gokhale
Here was living truth at last and not only quotation from books.
-Rabindranath Tagore

Such was a man Mohandas Karamchand Gandhi - a man considered one of the great sags and prophets he was held as a another Buddha, another Jesus, Indians called him the 'Father of the Nation'. They showered there love respect and devotion on him in an unprecedented measured. The whole world bowed to him in reverence. Even his opponents held him in great respect.
He was an humble seeker of Truth. He was a man with exceptional sincerity, honesty and truthfulness, for him unity of life was a great truth, his principle of non-violence stemmed from this conviction, it was a matter of faith for him.
Gandhiji is, therefore no longer an individual. He is a symbol of all that is the best and the most enduring in the human tradition. He is a man of future-a future that has to be shaped if the human race has to survive and progress on the path of evolution.
Birth and Parentage:-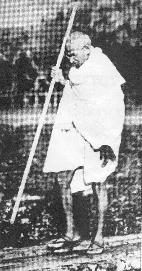 Mohandas Karamchand Gandhi was born at Porbandar, a coastal city in Kathiawad ( now a part of Gujarat State) on the 2nd October 1869. He was the youngest child of his parents, Karamchand and Putlibai.
Gandhis belonged to the Modh Bania community.They were originally grocers. However, Uttamchand, Mohan's grandfather, rose to become the Dewan of the Porbander state. Karamchand had little education,but had shrewdness of Judgement and practical knowledge acquired through experience.
Mohan had a great devotion for his father and he often used to be present at the discussion about the state. Gandhis had Parsi and Muslim friends and Jain monks used to make regular visits. Being the youngest , he was the darling of the household.
Mohan attended Primary School at Porbander. When he was seven, his family moved to Rajkot. He was mediocre student , was shy and avoided any company. However, he was truthful, honest, sensitive and was alert about his character. He was married alongwith his brother and cousin for the sake of economy and convenience. He was only 13 then. Kasturbai, his wife was of the same age. His experience later made him a strong critics of child marriages.
Mohan Joined highschool at Rajkot. He was liked by the teachers and received prizes. Mohan's father died when he was 16. He nursed him daily. But at the time of his death , Mohan was with with his wife . He always felt ashamed form this laspe.
He passed the Matriculation examination in 1887. He attended the college at Bhavnagar, but left after the first term. He then sailed for Bombay in September 1888, leaving behind his wife and a son .